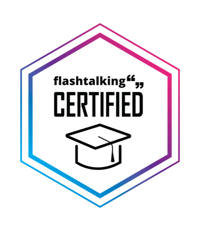 Flashtalking Certification Overview
Flashtalking Certification is available to anyone who wishes to expand their ad tech knowledge and confidence. We empower learners to navigate the ever-changing digital landscape with best-in-class creative solutions and campaign management tools.
Whether you're an ad operations professional or a digital creative developer, you'll benefit from a deeper knowledge of the Flashtalking platform. 
This program is powered by Mediaocean education.
Click the certification program that interests you below to learn more.